Wednesday, October 31, 2018
from DIYS https://ift.tt/2JxKhEY
Posted by

Unknown
at 5:11 PM
No comments:

Tuesday, October 30, 2018
from DIYS https://ift.tt/2RopVkc
from DIYS https://ift.tt/2zilWOs
Posted by

Unknown
at 5:21 PM
No comments:

San Francisco- and Oslo-based firm Mork Ulnes Architects has unveiled a black timber home tucked into a forestscape in Norden, California. To connect the home with its stunning scenery, the chalet-inspired Troll Hus was clad in pine tar-treated wood and elevated off the landscape with large concrete pillars for minimal site impact.
The massive, 3,300-square-foot family home holds court in the middle of a pine forest, just an hour and a half outside of Sacramento. To blend the home into its pristine natural environment, it was clad in dark wood. The black, timber structure sits high up near the tree canopies, giving off a sense of peaceful solitude among the soaring trees.
Related: A cypress tree grows through this hillside home in Los Angeles
According to the architects, the inspiration for the design was to create a family home where the residents could reconnect with nature, whether inside or outside the home. They explained, "The design is driven both by the extreme environmental conditions found at a 6,800-foot elevation and a California sensibility of generous indoor-outdoor living."
While the elevation of the home certainly affords stunning views, the pillars are also a strategic feature that provides resilience and passive temperature control. The concrete legs were meant to reduce the impact on the environment and protect the home from snow fall, which can reach up to 800 inches during winter. Additionally, putting extra elevation to the home allows for optimal solar exposure in the winter and shading from direct sun in the summer. The orientation of the house also shields the building from strong winds.
On the interior, the living space is clad in light wood paneling, creating a soothing vibe. An abundance of large windows brighten the interior with natural light. The open living and dining layout was designed to offer ample room for entertaining or simply enjoying the views in solitude. A large terrace wraps around one side of the home, further enhancing the design's strong connection to the outdoors.
Via Freshome
Photography by Bruce Damonte
from DIYS https://ift.tt/2qjDxBu
Posted by

Unknown
at 4:16 PM
No comments:

from DIYS https://ift.tt/2zfO1pP
Posted by

Unknown
at 1:57 PM
No comments:

In Dhaka, Bangladesh, local architecture firm River & Rain transformed four shipping containers into a light-filled, three-story house spanning 134 square meters. Completed in 2017, the cargotecture dwelling doesn't hide its shipping container roots yet manages to exude a welcoming and livable atmosphere through strategically cut openings, terraces that emphasize indoor-outdoor living and greenery that grows up, around and through the building. Recycled materials were also used throughout the home, which is named Escape Den after its tranquil setting on the outskirts of the city.
Spread out across three floors, the Escape Den organizes the kitchen and dining spaces on an elevated ground floor and places the living room and bedroom areas on the upper levels. Accessed via a side gate off of a dirt road, the property features an entry sequence that begins with a short flight of stairs from the parking pad to a sheltered deck. The deck consists of the dining area and other seating options oriented to face views of the lawn, which takes up approximately two-thirds of the site. The covered deck also connects to a shipping container converted to house a small media room, kitchen and bathroom. The caretaker's room is located in the back.
A flight of stairs traverses the central atrium space — anchored by an almond tree and a veil of green vines that hang from the ceiling — and connects to a glass-enclosed living room. Another flight of stairs leads up to the third floor, where a third shipping container, housing the two bedrooms, is set perpendicular to the bulk of the building in a dramatic cantilever and is topped with a green roof. One of the bedrooms also connects to an outdoor terrace. The green-roofed shipping container can be reached via a spiral staircase.
Related: German company converts old shipping containers into gorgeous living spaces
"The hefty look of those containers has become dramatically airier with some skillful ensemble of architectural details," the architects explained. "The floated platforms of the house, intertwining stairs and diverse direction of container placement have made the project more visually eye-catching."
Photography by Maruf Raihan, Hasan Saifuddin Chandan and Snahasis Saha via River & Rain
from DIYS https://ift.tt/2SwVadZ
Posted by

Unknown
at 1:11 PM
No comments:

We are witnessing the rapid improvement of smartphone cameras (and more of them being added to each new phone that gets launched). But have we come to the point where smartphone cameras can take better photos than full-frame DSLRs? Tyler Stalman tested the iPhone XR against the Canon 5D Mark IV. And when it comes […]
The post Can iPhone XR take better photos than a $5,000 full-frame Canon? appeared first on DIY Photography.
from DIYS https://ift.tt/2OgDdgo
from DIYS https://ift.tt/2yKKG2t
LISBON, Ohio (WYTV) - Federal and local law enforcement searched a house/business in Lisbon on Tuesday. DCG Productions is located in the 200 block of W. Washington St. According to the business' website, it specializes in

photography

, graphic design ...

and more »
from DIYS https://ift.tt/2zgOJmN
from DIYS https://ift.tt/2SwMxjC
The Canon EOS R was cause for some internal controversy here at Kolari Vision. After all, we're in the middle of The Great Mirrorless Camera War. Tensions are bound to rise, turning brother against brother, camera tech against camera tech, and photographer against photographer. Despite this, I will do my best to describe the form factor and […]
The post The unbiased Canon EOS R disassembly and teardown appeared first on DIY Photography.
from DIYS https://ift.tt/2P0V400
When Conny told me about the brand new Retouching Toolkit 3.0, it almost felt too good to be true. Can you imagine having a more modular version of Photoshop? I wish it was like this out of the box. Since it isn't, Conny had to go and make it and thank goodness he did. It's […]
The post Retouching Toolkit 3.0 initial review – it kicks butt appeared first on DIY Photography.
from DIYS https://ift.tt/2CRaLj9
I thought that I can't think of a better Halloween costume for a photographer than a huge camera. But Yohei Shimada took it to a higher level: his Halloween costume is a working Canon DSLR that takes actual photos. Shimada goes by name @cameraaman on Twitter, where he shared a couple of photo of his […]
The post This guy's Halloween costume is a working DSLR camera appeared first on DIY Photography.
from DIYS https://ift.tt/2zeaNOJ
A tripod is an essential piece of equipment for a landscape photographer. Sure, you won't always need to use it. But you'll find yourself in situations where it can help you capture a high-quality image you wouldn't be able to get otherwise.
But how do you choose the right tripod? There are hundreds (if not thousands) of options out there, with prices ranging from $10 to more than $1,000. How do you know which one will best suit your needs? Should you just go for the most expensive tripod you can find? It must be the best, right?
Not necessarily.
Why You Need a Tripod
Before we get into the best options for you, I want to go over a few key reasons why you need a tripod.
Tripods are essential for capturing razor-sharp images, especially in low-light situations where you want to keep your ISO low.
While increasing the ISO lets you use a quicker shutter speed, it can introduce unwanted grain/noise and reduce the overall quality of your image. But keeping the ISO low means you'll need a longer shutter speed. (Yes, you can adjust the aperture. But I won't be talking about that here).
Capturing a sharp image using a shutter speed of 1/10th of a second or slower with a handheld camera is almost impossible. It's very difficult to avoid any camera movement which, with such a slow shutter speed, means you'll introduce some blur into the image.
Mounting the camera on a tripod lets you use slower shutter speeds and still capture sharp images. The camera sits still on the tripod, so you don't have to worry about the motion of you holding it.
Using a tripod also allows you to use even slower shutter speeds and capture long exposures (i.e. images that make use of extra slow shutter speeds).
What to Consider Before Buying a Tripod
The first tripods I bought were cheap $20 aluminum models from the local electronic shop. While most photographers start with such a tripod, I strongly advise you not to buy one. For landscape photography, they simply won't do a good job. In some situations, they may even do more harm than goods. These also break more easily than something of a higher quality.
So what should you consider before purchasing your next tripod? Here are a few things to keep in mind:
Price and quality (i.e. what does your budget allow?)
Flexibility
Weight (aluminum vs carbon)
Taking these topics into account before you buy will make it easier to find the best one for your needs.
1. Price
The first thing most of us consider is the price. Photography equipment is rarely cheap, and if you want quality you need to pay for it. As I said earlier, a tripod can cost you anything from $10 to several thousand. But are more expensive tripods necessarily better?
In general, yes. A $1,000 tripod will outperform a $200 tripod in most tests. But that doesn't mean it's the right one for you. Ask yourself what you need. What type of photography do you do? Do you need the most expensive model? For most people, the answer is no.
Chances are a mid-range ($200) tripod will be more than adequate and perform perfectly in most scenarios.
2. Flexibility / Height
What about the specs? Should you choose a short one or a tall one? Can the legs spread wide, or are they locked into a fixed position? Flip-lock or twist-lock?
Let's start with the height. In most situations, you won't need a tall tripod. But there may well come a time where you need that extra leg length. Is it worth paying extra for? If you often find yourself in rivers, rocks or rugged seascapes, then yes. But if you're not into extreme landscape photography and mount your tripod on flat and stable ground instead, I wouldn't bother.
While a tall tripod is nice, it's also nice to have one that lets you get close to the ground. For this image, the tripod held my camera just a few centimeters off the ground, which allowed me to get extra close to the flowers.
So what's more important to you? Having a tall tripod, or being able to take photographs from a low perspective?
The good news is that some of the more expensive tripods can give you both. While they can stand close to two meters tall, they can also lay more or less flat on the ground for those extremely low perspective shots.
3. Weight
The final thing to consider is the tripod's weight. This is important, especially if you head out on long hikes to reach particular destinations. Your backpack can get quite heavy once you add all the gear you need, so the last thing you want is unnecessary weight from a tripod.
Now, a lightweight tripod doesn't necessarily mean a low-quality tripod. In fact, some of the best tripods out there are lightweight. You just need to make sure they're sturdy and can support the weight of your camera. However, these tripods are rarely cheap and are often found in the higher end of the price range.
If you're an avid hiker and tend to go a long way to photograph your subjects, I strongly recommend looking into a lightweight carbon-fiber tripod. These tripods are just as sturdy (if not more sturdy) than the heavier aluminum alternatives.
But if you're not into hiking, weight might not be such an issue. In fact, if you photograph in rough conditions you may prefer the extra weight. When photographing beaches in Arctic Norway I depend on having a sturdy tripod that won't break when hit by waves or move when the waves are receding. In these situations, a low-quality travel tripod is far from ideal. Even strong winds can make these tripods vibrate, leading to blurry images. A heavy and solid tripod is a much better option.
What types of landscapes do you normally photograph? And what do you need to capture those scenes?
Which Tripod is Best for You?
Unfortunately, I can't answer this question for you. It really depends on who you are and the kinds of photographs you take. But when you're ready to buy one, consider what I've talked about and ask yourself what you need. Do you need a light tripod you can easily bring on long hikes? Do you need a sturdy tripod that can handle wind and rough conditions? Perhaps you need a combination of the two.
And what about the price? Do you really need the most expensive model, or will a medium-priced alternative do the job?
Answering these questions should help you narrow down the options, and help you find the tripod that is best for you.
Personally, I have two tripods: a lightweight travel tripod I can bring on long hikes, and my main tripod that's a little heavier (and more expensive) but solid enough to use in even the roughest Arctic conditions.
Let us know what tripod you ended up choosing. We'd love to hear about it.
The post How to Choose the Right Tripod for Landscape Photography appeared first on Digital Photography School.
from DIYS https://ift.tt/2PqXqoD
Want to shoot an "impossible" f/0.2 portrait? Here's a 3.5-minute video in which photographer Tony Northrup demonstrates the Brenizer Method, which effectively turns a telephoto lens into an ultra-fast wide-angle lens.
The Brenizer Method, popularized in the modern day by photographer Ryan Brenizer, is simply a stitched panorama in which a portrait subject is featured in the frame.
Using a Nikon 105mm f/1.4E lens and shooting in portrait orientation, Northrup photographed both his model and the entire surroundings around by panning his camera around in small shifts.
Once you have a large number of shots, you'll need to stitch them together into a single wide-angle panorama of the scene. Northrup uses Microsoft's free ICE (Image Composite Editor).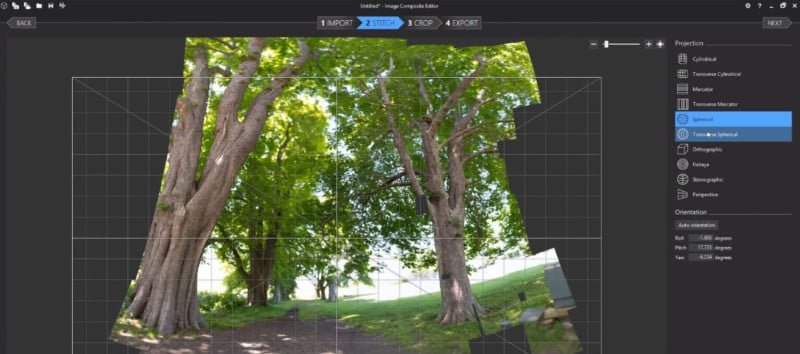 There are other programs out there that can also stitch a large set of photos together automatically into a panorama, but Northrup has found that Microsoft ICE consistently produces good results with fewer errors than other options (e.g. Lightroom's Photo Merge).
Here's the resulting portrait that Northrup ended up with: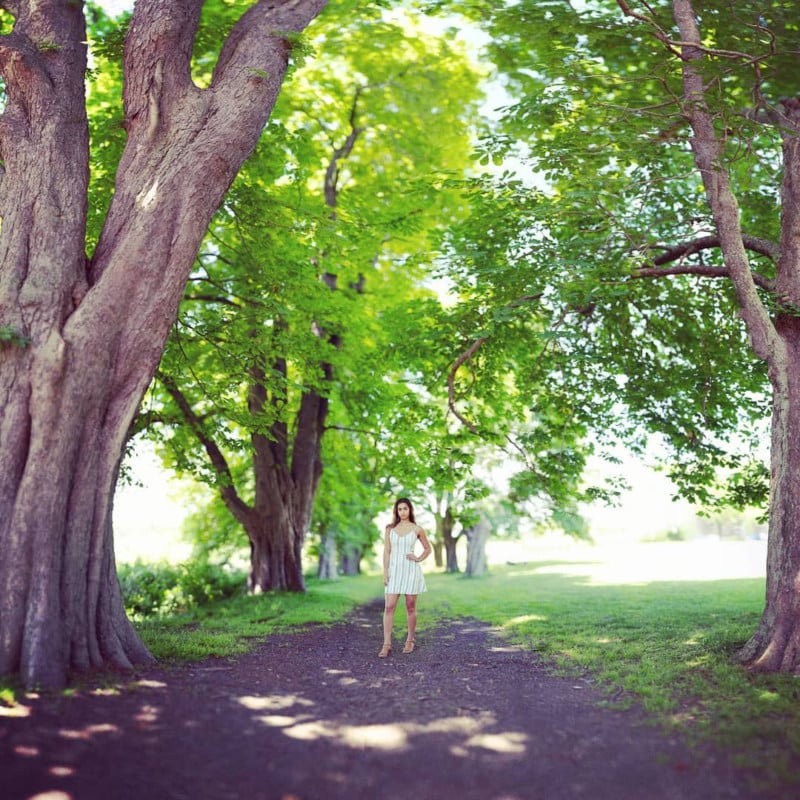 Based on the measurements, Northrup concluded that it's the equivalent of a photo shot using a 14mm f/0.2 lens mounted on a 1,400-megapixel square-format camera. It's a photo that could be printed 10-feet-wide at 300dpi.
This technique "creates an effect that people aren't used to seeing. And anytime we can make a photo that's a little bit visually different, we can make something unique and striking and something that gets a little bit of attention."
You can find more of Northrup's videos on his YouTube channel and more of his training through his website.
from DIYS https://ift.tt/2zcZbvh
Ever since the GoPro Hero7 leaked online, the emphasis was on the new and improved stabilization. Then, the company promised "hypersmooth" and "gimbal-like stabilization" when the camera was announced. To show off the capabilities of the new Hero 7, GoPro strapped the camera to an eagle and let it fly over a soccer field. And […]
The post "Shaky video is dead!" proclaims GoPro after strapping the Hero 7 to an eagle appeared first on DIY Photography.
from DIYS https://ift.tt/2SvMJjg
Posted by

Unknown
at 5:22 AM
No comments:

from DIYS https://ift.tt/2CJw1rf
Monday, October 29, 2018
from DIYS https://ift.tt/2yIrD8X
Now, there are a lot of great apps that really can help

photographers

. In my own work, I concentrate on landscapes and night

photography

(star trails, Milky Way), and these are the apps for my outdoor work I really like. Some you may have heard of

... and more »
from DIYS https://ift.tt/2SueNDu
from DIYS https://ift.tt/2yF9oRM
from DIYS https://ift.tt/2Oel3fa
from DIYS https://ift.tt/2SrXCCF
from DIYS https://ift.tt/2Pyec50
from DIYS https://ift.tt/2OeeHfQ
There's not a day that goes by that Meghan McCain doesn't think about her late father.
On Monday, the 34-year-old The View co-host shared an Instagram photo of herself and Sen. John McCain, who died at the age of 81 on Aug. 25 of glioblastoma, a form of brain cancer.
"66 days. I wake up every morning still instinctually trying and reaching to call you on the phone. I miss you so much Dad it physically hurts my heart," Meghan captioned the post.
"I miss your laugh, your voice, your dark sense of humor, the way you always made me feel safe in a world that seems to have lost its way."
Meghan also reminisced on her father's cooking, "I miss your dry ribs and grilled chicken. I miss you singing The Beach Boys on the porch."
View this post on Instagram

66 days. I wake up every morning still instinctually trying and reaching to call you on the phone. I miss you so much Dad it physically hurts my heart. I miss your laugh, your voice, your dark sense of humor, the way you always made me feel safe in a world that seems to have lost its way. I miss your dry ribs and grilled chicken. I miss you singing The Beach Boys on the porch. I miss waking up and drinking cappuccino and reading the New York Times together. I miss your old far side t-shirts and watching John Wayne movies. I miss hiking across the creek to the top of the mountain and looking at the black hawks. I miss the way you cooked eggs and bacon. I love you forever. Stay with me.

A post shared by Meghan McCain (@meghanmccain) on Oct 29, 2018 at 6:29pm PDT
"I miss waking up and drinking cappuccino and reading the New York Times together. I miss your old far side t-shirts and watching John Wayne movies. I miss hiking across the creek to the top of the mountain and looking at the black hawks."
"I miss the way you cooked eggs and bacon. I love you forever. Stay with me," Meghan concluded.
Meghan also shared a Halloween-inspired tribute to her father on her Instagram Stories, which showed Sen. McCain on a Jack-o'-lantern.
On Sunday, Meghan posted a mural of her father captioned, "Seen in Los Angeles… I miss you, Dad.
Meghan's heartfelt tributes come just a few weeks after she returned to work on Oct. 8.
Meghan got emotional as she returned to The View, thanking supporters for their kind words as her family continues to grieve.
As the crowd erupted with cheers, Meghan began, "I have missed all of you so much. Thank you so much … I have a lot of things to say … I just want to thank ABC and The View for giving me this time, to thank all of America for being so kind to my family."
"From the second that my father passed … I had to get in a car and a motorcade … from the moment I left, there were people of all races, all ages, all creeds, people saluting, praying … he would've loved it," she continued. "I cried the entire time. There was a lot of talk about what died with him … his ideals … but they didn't."
View this post on Instagram

Seen in Los Angeles… I miss you, Dad.

A post shared by Meghan McCain (@meghanmccain) on Oct 28, 2018 at 4:59pm PDT
//www.instagram.com/embed.js John McCain and Meghan McCainSierra Blanco Photography
Meghan revealed that her father planned his entire funeral, down to the speeches. She also said that she believes he deliberately chose her to be the only woman to eulogize him.
RELATED: After Attempted Bomb Attacks, Meghan McCain Admits She Regrets Saying 'I Hate Hillary Clinton'
Her speech seemed like a pointed rebuke of President Donald Trump, who was reportedly asked by the McCain family not to attend the services prior to the Arizona senator's death. (Trump, 72, infamously questioned John's record as a military hero.)
"The America of John McCain is generous and welcoming and bold," Meghan said. "She is resourceful and confident and secure. She meets her responsibilities, She speaks quietly because she is strong. America does not boast because she has no need to. The America of John McCain has no need to be great again because America was always great."
from DIYS https://ift.tt/2PwhE07
Highly stylized looks offer a great learning opportunity to the beginner or intermediate product photographer. When items are placed on a composite-heavy background, there are certain considerations we can make in-camera to avoid a headache in Photoshop.
Since we are using speedlights, we've used adapters to make them fit inside stripboxes, which are great modifiers for controlling the light to flatter our cosmetic. By placing our stripbox behind the subject at a 45-degree angle, we can add a nice edge light which will make our product stand out on the dark composited background.
By setting this light up while other lights are off, we can get a strong read on how the edge light is positioned. We can also avoid flare, by getting a pure look at the contrast present in the black background. Here we adjusted the angle of our light a couple times before we achieved this stark level of contrast while cutting the edge out nicely.
Since our product cap is glossy, it will reflect our lighting directly. This incentivizes the use of a diffuser, which, in combination with a stripbox, will give us a larger area to reflect light onto the cap. By placing the stripbox such that it is almost perpendicular to the diffusion panel, we can create a gradient going from the inside to the outside of the cap. We turned our edge light off while we made these adjustments.
The gradient gives an edgy look to the product, while flattering the matte & glossy materials, and sufficiently lighting the brand name and text.
Now we can turn our edge light back on, and we will see right away a fashionable look emerge with just two speedlights. Of course, any type of lighting can be used here, as long as you can modify it properly. The strip boxes helped a great deal in crafting this look with precision.
Reflective frames can give you good data to incorporate in post-production, and it only takes a quick second to hold a piece of paper or card, to bounce some fill back in the subjects darker right side. Even if you don't use all of this data, it takes a moment to capture and would be a huge headache to "fake" in Photoshop.
Mounting our product on a wire, allows us to diligently tweak the lighting, making our compositing work very straightforward. Shooting the accompanying applicator is as simple as cleaning it off and placing it similarly in the boldly lit environment.
By ensuring our products are sufficiently lit and carved off the backdrop nicely with an edge light, we create an easy time in Photoshop. The high level of contrast makes the items easy to select out, while the bright edges ensure the product will sit confidently on a low-key composited backdrop. We used pixels here as a background element, though this is just one small application of an array of looks that will now be at your fingertips.
If you enjoyed this tutorial and video, be sure to subscribe to my YouTube channel to follow along with my future videos.
About the author: Dustin Dolby is a commercial photographer and speedlight enthusiast. The opinions expressed in this article are solely those of the author. Dolby teaches photography through his YouTube Channel, workphlo, where he breaks down studio setups using minimal gear and retouching techniques.
from DIYS https://ift.tt/2RmkCS3