Saturday, June 30, 2018
from DIYS https://ift.tt/2lIUe77
Posted by

Unknown
at 4:38 PM
No comments:

Friday, June 29, 2018
from DIYS https://ift.tt/2KydTl6
Posted by

Unknown
at 5:23 PM
No comments:

from DIYS https://ift.tt/2IDJ1xJ
Posted by

Unknown
at 5:23 PM
No comments:

Yes, that's right Pentax shooters. The wait is almost over. The Pentax FA* 50mm f/1.4 SDM AW lens you've all been coveting is finally being released. Pentax says that this is the first new lens which follows a new set of standards for their top-of-the-line Star series lenses. New standards that will, they claim, help […]
The post The Pentax FA* 50mm f/1.4 SDM AW lens finally ships in July and will cost $1,199 appeared first on DIY Photography.
from DIYS https://ift.tt/2ICD584
Posted by

Unknown
at 5:13 PM
No comments:

New York-based architecture firm Cooper Robertson recently completed the latest addition to the New York Botanical Garden in the Bronx — the Edible Academy, a new LEED Gold-seeking facility that will teach the greater community about sustainable agriculture, healthy eating and the environment. Created as an expansion of the New York Botanical Garden's Children's Gardening Program founded in 1956, the $28 million state-of-the-art development covers three acres on the grounds of the existing Ruth Rea Howell Vegetable Garden. The facilities offer a wide array of programming as well as many sustainable features such as vegetated green roofs, composting toilets and geothermal heating and cooling.
Opened earlier this month, the Edible Academy serves as a year-round teaching center that celebrates New York's native landscapes. The campus comprises a collection of gabled structures that blur the distinction between indoors and out. The structures are positioned to frame views from the city's largest uncut expanse of old growth forest to the Bronx River and its waterfall. The buildings were placed around the teaching and display gardens with the re-imagined Ruth Rea Howell Vegetable Garden taking up a sizable portion of the campus. New gardens include the Meadow Garden with native perennial shrubs and herbaceous plants experienced through winding paths as well as the Barnsley Beds, a formal vegetable garden with ornament plantings, arranged around the Event Lawn.
The 5,300-square-foot green-roofed Classroom Building serves as the heart of the Edible Academy and boasts a child-friendly demonstration kitchen and technology lab. A connecting greenhouse doubles as a teaching space and a potting and propagation area. Outdoor lessons can be held in the shade under the Solar Pavilion, named after its rooftop solar panels, as well as in the 350-seat outdoor amphitheater carved from the site's natural topography.
Related: Solar-powered school will teach children how to grow and cook their own food
"With its combination of inventive and flexible spaces for gardening programs, classes and outdoor events, the Edible Academy offers a strong design framework for addressing the 21st-century needs and interests of schools, families and the public," said Bruce Davis, AIA, LEED AP, a partner with Cooper Robertson. "With this dedicated three-acre facility, the Edible Academy also provides an innovative national model for other institutions and schools expanding their garden-based education programs."
Images by Marlon Co / The New York Botanical Garden and Robert Benson Photography
from DIYS https://ift.tt/2tPFzea
Posted by

Unknown
at 9:53 AM
No comments:

"Ugh, what did you take that photo with, a potato?" Well, the guys from Corridor Crew would answer this question with a yes. They literally made a camera out of a potato and even took some shots with it. In this fun video, they share the process of making, as well as some challenges they […]
The post These guys made a working camera out of a potato appeared first on DIY Photography.
from DIYS https://ift.tt/2lHDoFF
Posted by

Unknown
at 7:53 AM
No comments:

from DIYS https://ift.tt/2IAXnin
Posted by

Unknown
at 7:23 AM
No comments:

If it's not parachutes for drones it's airbags for phones. Humanity seems obsessed with things falling or being dropped these days. While we hope that drones falling from the sky doesn't happen often, phones fall and get damaged all the time. Especially when scrambling around at a location trying to shoot photos with them. German […]
The post This phone case acts like a "mobile airbag" to protect your phone when dropped appeared first on DIY Photography.
from DIYS https://ift.tt/2tRdZNH
Posted by

Unknown
at 6:18 AM
No comments:

from DIYS https://ift.tt/2NchGGC
Posted by

Unknown
at 3:08 AM
No comments:

Thursday, June 28, 2018
from DIYS https://ift.tt/2KhVixI
Photography

is like many other skills, it requires practice and experience. If you aren't happy with your photos, don't get discouraged, just keep shooting and trying to shoot with more purpose and intentionality. If you do that, look at and share your

... and more »
from DIYS https://ift.tt/2lEGvOJ
Back in March, Apple started showing an advertisement on UK TV for the iPhone X. It claimed "radically new cameras with Portrait Lighting. Studio-quality portraits. Without the studio". Not everybody was impressed by this claim, and two filed a complaint with the UK's Advertising Standards Authority. They alleged that the claim "Studio-quality portraits" was misleading […]
The post ASA rules that Apple can claim the iPhone X shoots "studio-quality portraits" appeared first on DIY Photography.
from DIYS https://ift.tt/2yO2ImZ
Lighting brand Phottix has announced a new LED panel for videographers and stills photographers called the Kali600. Larger than the company's hotshoe Nuada series, the Kali600 is designed for location and studio work and to be mounted on a stand.
The panel has 600 LEDs and can produce light across a range of 3200-5600K while offering a maximum brightness of 3000Lux. With a pair of battery plates the panel can be run from two optional Sony NP-type batteries or directly via the mains using the supplied AC adapter. A set of barndoors and a diffuser are included, as is a wireless remote that can be used to control the brightness and color temperature of the output.

The Phottix Kali600 costs $170 and is shipping straight away. For more information see the Phottix website.
Press release
Feel the power – Meet the Phottix Kali600 Video LED
Following the success of the Phottix Nuada series LEDs, Phottix is announcing a new LED lighting line-up: the Phottix Kali.
The new series will debut with the Kali600 model – a larger studio-style LED Panel for video and general studio and location photography.
Features:
Excellent color rendering - CRI 95+
Digital Power Control: 10% - 100%
Digital Color Control: 3300K – 5600K
Uses 2 Sony-compatible batteries or AC Adapter
The Phottix Kali600 will feature a maximum brightness of 3000Lux (36W). Being both mains and battery powered it can be used in the studio or on-location. The Kali600 offers power and color temperature control – via the panel as well as a wireless radio remote. Barndoors, white diffuser panel and AC Adapter are included.
What's included:
Kali600 LED Main Panel with Barndoors and Diffuser Panel
Remote Control Unit
AC adapter ( US & UK & AU & EU plug )
Printed User Manual
from DIYS https://ift.tt/2N6kuos
An interesting new patent application from Canon details a series of potential lens designs with an adjustable soft-focus feature.
Japanese patent application number 2018-97240 lays out the groundwork and schematics for four different full-frame camera lens designs that feature a dual-focus system: a 58mm F1.4, a 35m F1.8, a 105mm F2 and a 70-200mm F4.
According to the patent application, the first focusing module would be used for the traditional purpose of focusing on the subject matter. The other module, however, isn't for the sake of focusing, but to intentionally soften the image using spherical aberration.
The patent application details two specific challenges designing such a lens: trying to focus the lens, which is a challenge to do when spherical aberration is present in the image, and having variable soft-focus, so you can add as much or as little spherical aberration as you see fit for the scene—something not possible with past soft-focus lenses.
Below is the computer-translated text from the patent detailing how the soft-focus module would work:
A second arrangement state by which said 1st focus group and said 2nd focus group are arranged so that a second aberration amount which will be in a focusing state in the aforementioned predetermined object distance, and is different from said first aberration amount may be generated.
Regardless of whether or not one of these lens designs ever makes it to market, this isn't the first time a soft-focus lens has been made. In 1935, Leitz created the Thambar 90mm F2.2, a classic Leica lens renowned for its dream-like aesthetic. In fact, Leica released a modernized M-mount version of the Thambar 90mm F2.2 late last year as well.
As with all patents and patent applications, this design may never leave the metaphorical paper. But it's interesting nonetheless.
from DIYS https://ift.tt/2tCw030
Apple can claim to consumers that the iPhone X captures "studio-quality portraits." That's what the UK's advertising regulator has concluded after it received complaints that Apple's advertising was misleading.
Earlier this year, Apple launched a new ad campaign for the iPhone X that offered a behind-the-scenes look at how the company created a phone that "takes studio-quality portraits without the studio":
The video suggests that the iPhone can replace a studio's worth of expensive equipment and create similar-looking photos while fitting in the palm of your hand.
It seems some people — perhaps studio portrait photographers — took issue with Apple's claims. At least two people or groups in the UK filed complaints with the Advertising Standards Authority (ASA), the nation's independent advertising regulator, challenging "whether the claim 'Studio-quality portraits' was misleading and could be substantiated."
After conducting an investigation, the ASA has just sided with Apple.
Apple argued that "studio-quality" is a subjective term and not one that has any kind of industry standard definition and that the company worked hard to study "light and depth" to provide users with a way to easily create studio lighting effects.
The 35mm equivalent focal length of the iPhone X was also a key argument Apple presented.
"Apple stated that the 50mm focal lens in the iPhone X was one of the most popular professional studio portrait lenses and the lighting options available on the phone mimicked what could be done in a studio," ASA writes.
"We recognized that there were many effects, techniques and tools used in studio photography which played a vital role in capturing high standard images, many of which were not available to someone solely using the iPhone X," the ASA continues. "However, we recognized the emphasis was placed on the significance of the lighting effects on achieving the quality of image the ad demonstrated, and we understood that those images shown were a true reflection of the capabilities of the iPhone X's camera.
"For those reasons, we concluded that the ad was not misleading."
from DIYS https://ift.tt/2yT2wmq
Posted by

Unknown
at 8:23 AM
No comments:

Taiwanese firm Emerge Architects has created a beautiful hotel in a remote coastal area of Yilan in northeastern Taiwan. Built into a large hill that overlooks the harbor, the Onyx Lit House is a contemporary jet-black tower with clusters of round windows that stream light into the interior. The bold tower, which becomes a glowing beacon at night, was inspired by the seaside landscape.
Located in the coastal area of Yilan, the Onyx Lit House holds court over the city's bustling harbor area. According to the architects, the seaside environment served as an inspiration for the design. "Our first impression of Toucheng Village and Wishi Harbour in Yilan was the smell of salty waves, the sound of splashes on the glossy shingle beach and the sight of distant Guishan Island," the firm said. "The image of dissolving waves and glittering sea foam became the source to the guesthouse's design element."
Related: Chrome Hotel's Swiss Cheese Facade Saves Energy
The hotel's dark facade is punctuated with various round windows. During the day, pockets of natural light filter in through the openings and brighten the interior. At night, the tower becomes a glowing beacon on the outside, while the interior resembles a starry night sky.
The nearly 3,000-square-foot guest home spreads out over three floors. A narrow staircase connects the floors, all of which are decorated with a minimalist design. The common spaces are painted a stark white to contrast the black exterior. Every floor has an open-air balcony that lets visitors sit and enjoy the fresh sea air. The individual guestrooms are arranged to take advantage of natural light during the day and the starry-like atmosphere at night. The unique windows also provide stunning views of the sea and mountains in the distance.
Via Archdaily
Photography by Lucas K. Doolan via Emerge Architects
from DIYS https://ift.tt/2IzCzb2
Posted by

Unknown
at 8:13 AM
No comments:

Cityscape photography is becoming increasingly popular and can be a welcome change to capturing rolling hills and scenic vistas. Urban landscape environments can offer you, the photographer, attractive buildings, patterns and lines to capture stunning scenes and an alternative to the familiar nature shots found in the countryside.
Here are 6 elements you will want to consider to improve your photographs of cities:
1. Shoot at different times of the day
Think about blue hour, golden hour, and daytime for your city images.
As the sun goes down and darkness falls, cities come to life when buildings and architectural details become illuminated and can make for some spectacular image opportunities. However, a common mistake people make when doing cityscape photography is to capture images too late at night when the natural light has disappeared and the sky is completely black.
Shanghai skyline at night.
Total darkness is generally not the best time to photograph buildings as they will appear less attractive with little detail.
If you intend to photograph in the evenings, I would recommend that you arrive at your location for sunset and wait for dusk to fall. You could shoot during blue hour, a period of twilight when the sun is at a significant depth below the horizon and when the sky takes on a predominantly blue shade.
Although it is called the blue hour, it usually occurs for a window of around 20-30 minutes, depending on your location and the season.
Golden hour is another good time for cityscape photography. During the early morning or late afternoon, you'll have beautiful long shadows to work with, as well as soft golden light.
Daytime shot of the same city.
Alternatively, photographing during the day allows for a more interesting composition as scenes can be more crowded. Just add people in your frame that can make intriguing subjects combined with buildings.
2. Use ambient light effectively
If you capture the final elements of ambient light in the sky before darkness falls and combine it with the artificial light of the buildings, this will usually result in good photographs.
Once the city lights come on there is usually a window of about an hour to capture pleasing cityscapes. Shooting scenes at this time will allow you to balance the sky with the artificial lights of the city.
3. Consider color
Look for patterns and blocks of color that may offset one another. Buildings may be painted in different colors that work well together, for example.
The cool blue sky of the blue hour complements the warm, golden, amber hues of street and building lights perfectly. The harmony of an image is apparent when colorful tones come together, such as this image of Oxford at night.
Also, the sun can create different colors as it strikes buildings and reflects off them.
4. Consider composition
It is best to try and exclude any distracting and unwanted objects from the frame such as trash bins, signs, and any unsightly buildings that will make your image less attractive. Re-compose your image until it's free of clutter and you are happy with the way the image looks.
Work with the light if you're capturing cityscapes during the day. Usually, you will want to shoot with the sun lighting the buildings for the best results and to ensure everything in your view is illuminated.
5. Experiment with exposure
Cityscapes often provide a great opportunity to experiment with your exposure. You will discover that after sunset, as the light fades, you will be less able to hand hold your camera to capture your cityscape scene. Recording long exposures in cityscape photography will create motion and that feeling of movement is only possible by using a tripod.
As twilight unveils, you can capture the low ambient light by using slow shutter speeds to create mobility within your image. The stillness of buildings contrasting the movement of clouds or light trails from traffic, for example, make for an interesting image and can add drama to your composition.
Using fast shutter speeds can help to freeze the motion of different objects in the scene. I recommend that you experiment with different shutter speeds to see what different moods this creates and see which style of image you like.
6. Get creative
Add some beauty to your shot by capturing close up objects such as bridges or signs with the cityscape in the background. You could even try photographing people and the cityscape to show the full setting you are photographing within.
Don't be afraid to get closer to your subject and focus on the action. I suggest that you play around with various angles to capture something truly unique and inspirational, one that you are proud of.
Cityscape photography requires a great deal of practice and you most likely won't walk away with award-winning cityscapes overnight. Keep shooting and with these tips, you will become more adept at capturing urban imagery you can be proud of.
Now it's your turn, please share your cityscape photography images and tips in the comments area below.
The post 6 Ways to Improve your Cityscape Photography appeared first on Digital Photography School.
from DIYS https://ift.tt/2KtGKab
Posted by

Unknown
at 7:33 AM
No comments:

A spec sheet has been leaked to the folks at Sony Alpha Rumors about a new Sony sensor. Of course, new sensors are released all the time, so what's so special about this one? Well, it's a 31MP resolution APS-C sensor with a global shutter that potentially offers 4K video at up to 108 frames […]
The post Leaked spec sheet shows a new Sony 31MP APS-C sensor with global shutter appeared first on DIY Photography.
from DIYS https://ift.tt/2Kg26Mi
Posted by

Unknown
at 5:53 AM
No comments:

Posted by

Unknown
at 4:08 AM
No comments:

Starting a business is a struggle, as well as keeping it successful. When you're just starting out as a professional photographer, you'll face a lot of challenges and might make some mistakes that will cost you the business. In this video, Chelsea Nicole talks about three common mistakes that could potentially ruin your business. If […]
The post Avoid these three mistakes if you want to make a successful photography business appeared first on DIY Photography.
from DIYS https://ift.tt/2KiUVDb
Posted by

Unknown
at 4:08 AM
No comments:

Whether you want to create a blog, showcase a business or organization or sell items online, one thing is certain. You need a great website. SITE123 is one example of a website builder. And it's different than most of the other options you'll find for one key reason – it's completely free.
Getting started – or even redesigning an existing website – can be intimidating. A website builder can be the solution. Website builders are a set of tools that help anyone create a website without a lot of coding or design knowledge. It's a quick and easy way to get a website online.
What is SITE123?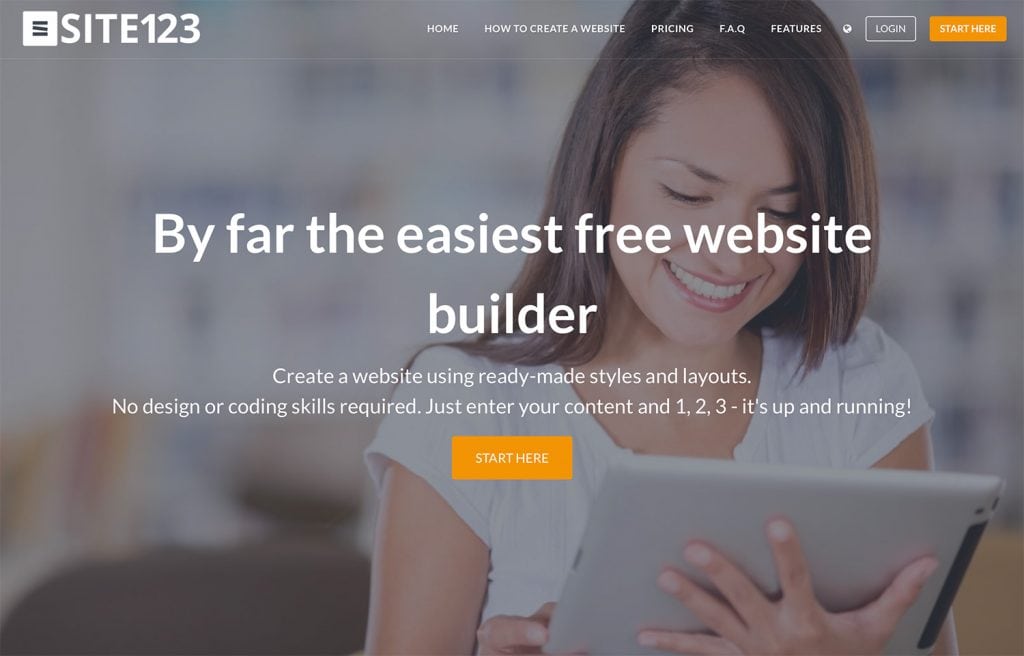 SITE123 is a free website builder that you can use to create a general purpose website, blog or online store. Use it to create a website using ready-made styles and layouts so that you know your design will look great even if you don't have a lot of graphic design skills or time to work on a website.
What sets SITE123 apart from most other website builders is that it is free. (Seriously!)
The free website builder comes with 500 megabytes of storage, 1 gigabyte of bandwidth and a subdomain. Plus there are plenty of cool templates to help you build a sleek design that will work on any device.
All you have to do is upload your content and the "design wizards" behind SITE123 take care of the rest. (You don't even have to deal with all those drag and drop module that many other website builders are based on.)
All in One Website Builder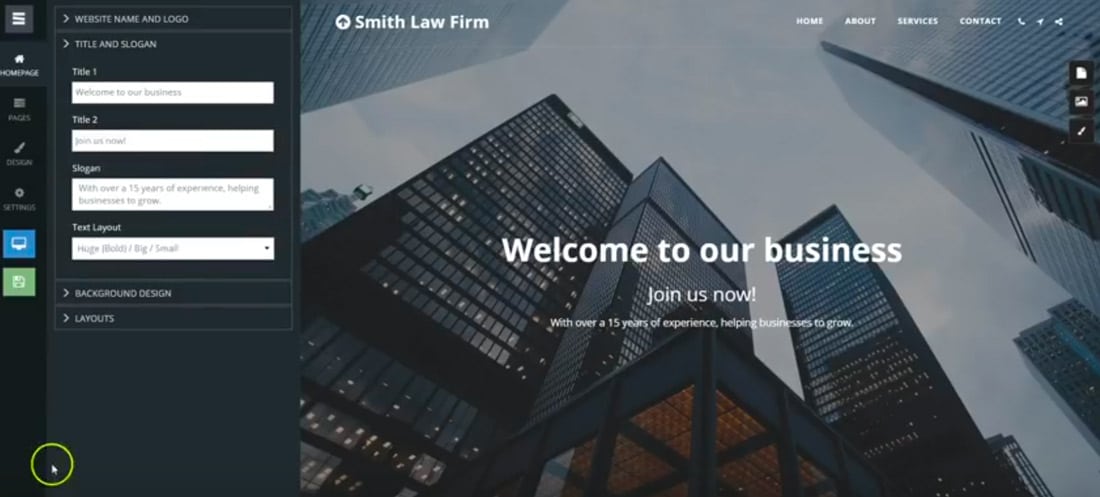 SITE123 is made for any type of website project. If you've been wondering how to start a blog or create an online store, this is the right tool.
Websites created with SITE123 come with everything you'd want in a website.
SEO-friendly
Sleek, modern design
Quick uptime
Easy to edit content
Quick load time for users
Responsive design works on all devices
Comes with free stock images
Ability to create sub-domain or add a custom domain (premium feature)
No limit to number of websites in your account
E-Commerce
SITE123 isn't just for simple websites; you can create an online store as well. Whether you are new to ecommerce or a seasoned seller, the SITE123 ecommerce website builder can set your online store apart.
Key features of the SITE123 ecommerce option include:
Ability to manage products and sell online anywhere in the world
Design your store to impress customers by starting with an easy to use template
Huge selection of currencies so you can sell anywhere
Ability to offer multiple product options such as size, color, or material
Accept payments via PayPal, credit cards or wire transfer
Create coupons and promo codes
Automated shipping and tax rates calculator
Sell physical or digital products
Inventory management and analytics tools built right in
Blog
SITE123 might be one of the easiest available options to create a free blog. The blog builder includes all the tools you need to get content online with regular and reliable posts with a compelling and easy to read design. This combination is great to help users focus on your content.
Key features of the SITE123 blog site include:
Plenty of blog templates so you can find a design that matches your content
Blog design that looks great on any device
Easy editing so you can make updates and changes on the fly
A powerful commenting system with the option to auto-confirm comments for immediate engagement and a reply option
Ability to integrate Facebook or Disqus for commenting
Ability to schedule blog posts so they publish when you want, regardless of your schedule
RSS feed integration so more people can access your blog content
So Many Website Templates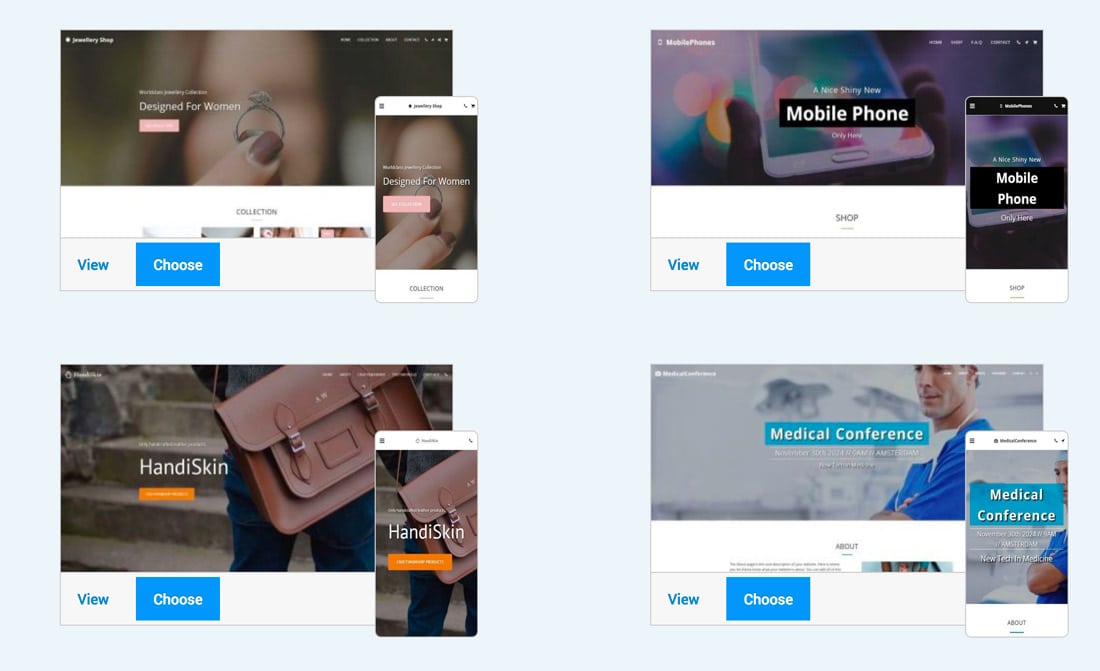 What makes SITE123 so easy to use is that it is pack with free website templates. With designs grouped and made for different categories of websites, all you have to do to get started is pick a website template that matches your style.
Template options include free website designs for business sites, blogs, photography sites, music- or event-based websites, restaurants, resumes, landing pages and online stores.
Every free website template features a modern design. (Users won't know how easy it was for you to create a website.)
And every SITE123 website template comes with these must-have features:
Responsive web design (that means it works anywhere)
Free hosting and SITE123 subdomain
Free SSL/HTTPS encryption
Ability to add email accounts
Ability to add an unlimited number of pages to the design
Free image and icon library
Support for multiple languages
Blog integration
Scheduling and booking tools
Logo resizer
Custom form builder
31 ready-made page options to choose from
Social media integration
Google maps integration
So you get the picture, right? Even though SITE123 is a free website builder, it is packed with tools and features. Anything you can imagine creating or doing with a website is built right in.
Get Started
If you need a website, there's no reason not to try SITE123's free website builder. You don't have to pay anything to get started and you can have a website online in just three steps – pick a website template design, add your content and publish!
More than 1 million websites have already been created with SITE123. Is yours the next blog, online store or general purpose website to go live. Browse the templates and try SITE123 today.
Our thanks to SITE123 for sponsoring this post, and helping to support Design Shack.
from DIYS https://ift.tt/2IwSgjq
Posted by

Unknown
at 2:43 AM
No comments: